Santa Barbara Green Screen Rental Studio
Choose your favorite backgrounds (images or videos)
Professional Quality Lighting, Microphones
Production Team
Editing Team
Virtual Interview with Remote Guest
Santa Barbara Green screen studio rentals in Santa Barbara
Affordable green screen stage wall media video and film studio located in Santa Barbara, downtown.
HypeCats Studio is available for Photo & Video Rentals.
Green Screen Downtown Santa Barbara is located in the film-friendly neighborhood of Santa Barbara Downtown Santa Barbara, off highway 101.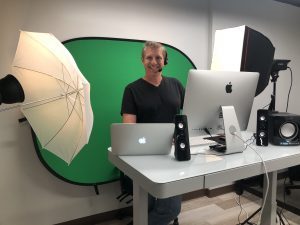 Professional Media Video Productions, Webcasts, Live broadcasting, vlogging.
We have 4K Video cameras, pro audio, pro lighting, green screen, writing, producing, editing.
We are close to Santa Barbara Farmer's Market adjacent to several film industrial exteriors, coffee shops and restaurants. The Green Screen Studio is easily accessible with a street-level elevator and stairs to the second floor, and a large parking lot across the street.
Our Santa Barbara video studio rental is available after seven days per week.
The Santa Barbara Green Screen rental is ideal for film shoots, photography, broadcast multi-camera interviews, TV, commercials, as well as music videos, promos and web presentations.
The sound stage has an on-site stage manager. Also included is a mini-kitchen (with a coffee maker, microwave, fridge), bathrooms, make-up station, and wireless internet.
You can simply rent the video studio as is, or we can assemble a crew for you. We offer discounts for prep days on multiple-day shoots.
Perfect for small product Green screen Insert Video shots with mini kitchen facilities and a conference area with a Santa Barbara production studio location.
WE ALSO OFFER FULL VIDEO PRODUCTION SERVICES! Rent one of the finest small green screen video studios on the South Coast and Central Coast.
HypeCats Santa Barbara produces the weekly Music News TV Show starring DJ Scott Topper.
We Offer Several Packages to Suit Every Budget. Crew & Camera Available. Lighting Included. Green Screen. Highlights: mini-Kitchen, Bathrooms, Make-Up Station, Wireless Internet.
Santa Barbara Video Producers, Creative Director, Livestreaming Producer, Production Manager, Web Designer, Short video ads, Events, Advertisement, Live broadcast, Interview